Pressure Cooker Vegetable Curry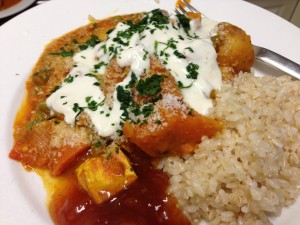 The vegetables you choose are completely up to you, I've made this twice recently with 2 different combinations. To give you an idea of volume, this is what I used yesterday:
2 medium sweet potatoes
4 small potatoes
1 large carrot
1 large zucchini
1 leek
1 large handful green beans
1 cup frozen peas
Then the other ingredients:
250 g plain firm tofu, cubed, or a packet of marinated tofu pieces
1 can chickpeas, or home-made - 1.5 cups.
1 can chopped tomatoes
1.5 cups passata / canned tomatoes - blended
1.5 cups water
1 heaped tablespoon vegetable stock powder
1 tablespoon ground cumin
1 tablespoon ground turmeric
1 tablespoon (mild or to your taste) curry powder
¼ cup raw cashews
½ cup soy /almond milk
1 teaspoon coconut essence
To serve:
Chopped coriander
Low fat plain soy yogurt
Mango chutney
Dessicated coconut
If you have soaked cashews all the better but if not, place them in a small pan and cover with water and bring to the boil. Reduce to a simmer.
Chop the potatoes and carrot into large pieces. Slice the leek and zucchini into 1cm slices, top and tail the beans and cut them in half. Measure out the peas.
Heat your pressure cooker on the brown function if it has one (mine is electronic, if yours is the old type you can just heat it up!) and throw in the leek, stir it around for a minute or two then add all the other vegetables.
Put on your rice to cook.
Add all the other ingredients, stir thoroughly, close the lid, set the cooker to High Pressure and set for 13 minutes, and Start.
Drain your cashews, place in a high speed blender, add the soy /almond milk and coconut essence. Blend until very smooth.
Once the curry has finished cooking, reduce the pressure, then stir through the cashew cream and the peas. Serve with the rice and necessary accompaniments!